About Us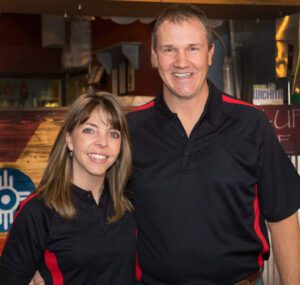 After over a decade of investing in homes and remodeling as a side business, Dave and Robin found Wichita Wood Floor Specialists to be the perfect opportunity to make home remodeling their main business and to explore and expand a business that fits their wheelhouse. They purchased Wichita Wood Floor Specialists in 2018 and have taken great pride in nurturing it and making it their own.
One of their first remodel projects after purchasing the business was to develop a beautiful and spacious showroom at their new business location at 2100 E Douglas. Expanding the showroom space allowed them to grow the services and products provided to include carpet, tile, and countertop installation in addition to the wood and luxury vinyl floor services.
Dave and Robin are both Kansas born. Dave enjoys projects and the outdoors. Robin also enjoys the outdoors but enjoys a good book as well. Together, they have 2 girls, one in middle school and the other in high school. Both girls enjoy and are involved in sports. The family's latest addition Rosie, a Bichon Frise, can be seen at the showroom from time to time. Don't be alarmed if she greets you at the showroom door barking. She is all bark and no bite and will soon follow you around the showroom and lay down on the samples that are placed on the floor to look over.